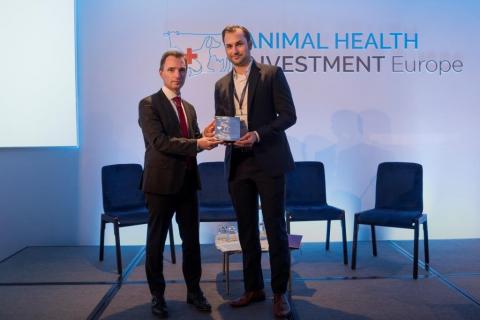 PetBioCell is a family run business and has developed out of the veterinary hospital from Dr. Thomas Grammel in Osterode, Germany, into a specialized GMP laboratory for dendritic cell therapies. Focusing on the quality of life of dogs, cats and horses, PetBioCell produces individualized dendritic cell therapies for cancer treatments in solid tumors in these animals.
In London, PetBioCell competed at the annual Animal Health Investment Forum with 10 other companies for the Innovation Showcase Award. The Innovation showcase is a unique opportunity for emerging companies to present their technology and vision in front of the industry's most influential figures and investors.
PetBioCell was picked by the Selection Committee to present in front of the judges. In a short 7 minutes presentation, Simon Grammel from PetBioCell presented the current GMP manufacturing status of the company. He pointed out that veterinarians and animal owners are in need for a better and more efficient tumor therapy for their animals and patients. Finally, he presented his vision of expanding PetBioCell in the next years into the UK and France in order to target key markets.
PetBioCells technology and Simons vision was rewarded by the judges with the Innovation Showcase Award. Simon comments on winning the Innovation Showcase Award: "We are really happy to win the Innovation Showcase Award. This not only pushes dendritic cell therapy but all individualized therapeutics into the focus of animal health and it reflects the demand of animal owners for more specialized treatment options for their pets."
After financing the business through private and angel investment, PetBioCell focuses on a financing round to push for the licensing procedures in Germany, the UK and France and the expansion into the US.
Simon comments on the win of the Animal Health Innovation Showcase Award