We would like to present you the case description of a dog with dendritic cell therapy. An adenocarcinoma was diagnosed in the bitch. It is important that this is the experience of a single patient and does not correspond to a clinical trial.
Patient: Missi
Species: Dog
Race: Australian Kelpie
Diagnosis: Adenocarcinoma at the mammalian border
Pretreatments: August 2017 Removal of a fast-growing tumour from the muzzle.
Patient owners report:
In July 2009 we picked up Missi from the shelter in Koblenz - she had been rescued from an abandoned Messie apartment a few weeks before  by the public order office - 1 week without food and without drinking and with an open leg fracture -.
In March 2016, a benign tumor was surgically removed from the mammary girdle with simultaneous castration.
In August 2017 a fast growing tumor was removed - again on the mammalian ridge.
Find: Adenocarcinoma with metastases - life expectancy at this diagnosis is between 3 months and max. 1 year
Missi was "out of therapy".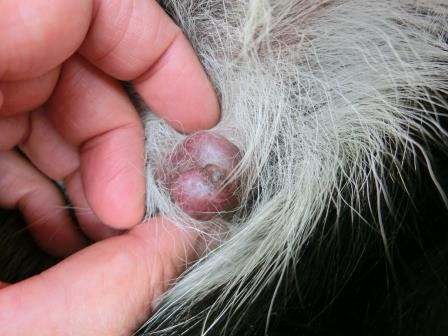 Die Tierklinik Baronetzky-Mercier in Mayen drew our attention to the Petbiocell-Therapy - without hesitation we started directly with it in order not to lose precious time.After the first injection 2 tumors were detected again, which were immediately surgically removed - thus Petbiocell had the tumor material available for the coming injections.
Missis's state of health was very good at all times, the severe cancer was not noticeable to her.
In control examinations, no further tumors or thickened lymph nodes were detected and the lungs are free (80% of this type of tumor affects the lungs).
In the meantime, also on the advice of our veterinarian Dr. Kratz in Treis-Karden, we have administered Missi a 4th injection in February.
In the future, Dr. Kratz will undergo check-ups every 3 months. She is now also successfully treating other dogs with this cell therapy.
A consistent nourishing conversion helps surely also with the health attitude of our Missi.
From barfen we switched to a vegan diet (VeggieDog 100) enriched with valuable antioxidants (Moringa and barley grass powder, curcuma, acerola powder, AlmaPharm Basic, spirulina, linseed, hemp seed, chia seed, yeast flakes, bentonite).
Cold pressed carrot juice (400ml) is added to the feed.
From the beginning we felt very well looked after by Petbiocell, the whole process was always uncomplicated and smooth.
The communication in the form of emails and telephone calls, especially with Dr. Grammel, is unique. 
Many thanks to the entire Petbiocell team - we will always be happy to take your help and advice and recommend you to others!
Great regards, especially from Missi :-)
Family Möntenich, 09 March 2018